About the Founder, Amandine Dubourg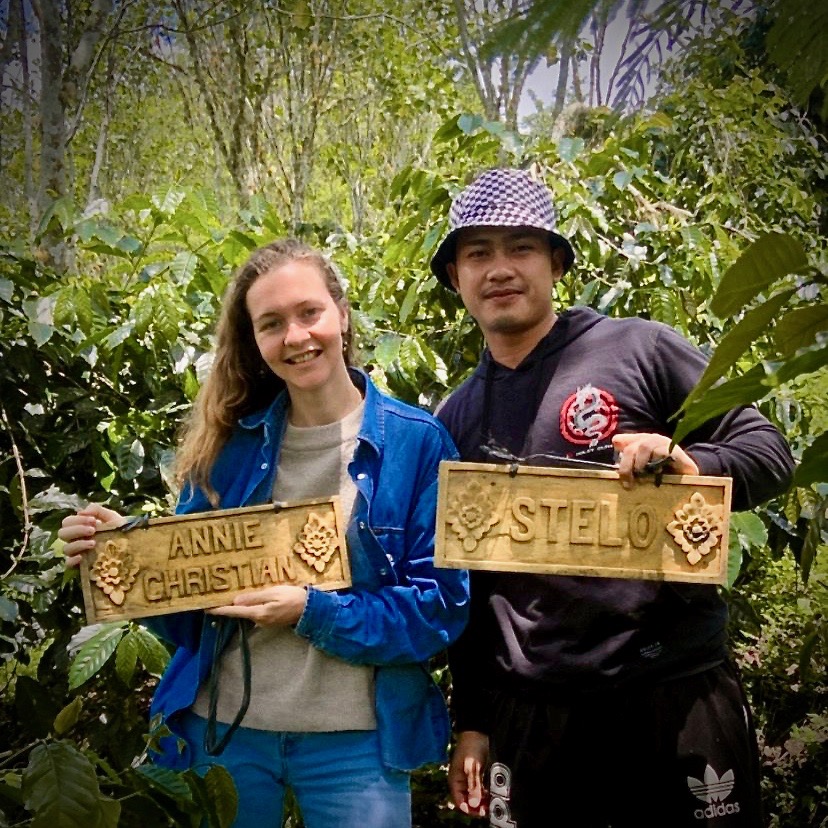 #7 - About the founder, Amandine Dubourg
Hello to you!
In 2020, Masama was featured in Couleurs Magazine!
I wanted to share with you this article which describes my beginnings in Indonesia but also the birth of Masama and this adventure of adopting a coffee tree.
Good reading!
The article is just below: 
Expatriated since [2014] in Indonesia, Amandine Dubourg specialized in tropical agronomy, has just launched Masama, a pre-financing system for Balinese coffee harvests designed to promote sustainable agriculture and fair remuneration for local producers.

Some studies lead far, very far: those followed by Amandine Dubourg took her more than 10,000 km from her native Saint-Priest: in Bali, Indonesia. It's been six years since our 'San-Priote' settled down on this small Buddhist island of 80 km by 40 nestled in the heart of the largest Muslim country in the world: an archipelago with nearly 13,500 islands and is home to nearly 268 million people. […]

The story of Amandine Dubourg's expatriation begins in Cergy-Pontoise, where the San-Priote goes to follow an engineering course in tropical agronomy. "I did my first internship in Indonesia in 2012, in Sulawesi, the big island in the center," explains the young girl. Why Indonesia? "Because I wanted to work in spices," she replies. It must be said that in terms of spices, Indonesia landed there: the country is indeed the world's leading producer of cloves, nutmeg, vanilla, and cinnamon and the world's third-largest producer of pepper.

During this first internship, Amandine discovers more specifically essential oils and patchouli. She would come back so satisfied and enthusiastic that when it came time to land a new internship in 2014, the 30-year-old had no hesitation: it would be Indonesia again, but Bali this time. "I joined Tripper Nature, a company specializing in the import-export of vanilla and cinnamon, for a six-month internship. In the end, she stayed there…six years. "The company was looking to create a sustainable development department to promote organic, fair trade…" mention the San-Priote. During these six years, Amandine Dubourg multiplies the meetings and weaves valued links with local producers.

Protecting the environment and respecting the work of small producers, Amandine decides at the beginning of 2020 to embark on a new and ambitious project around… coffee this time. "Our vision is to recognize the quality of Indonesian coffee beans and create a human-centered supply chain. Masama is the place where farmers and consumers can meet and build sustainable single-origin coffee production together," explains the young entrepreneur on masama.org, the name she gave to this project that became a reality. In summary?

Masama offers…to adopt a coffee tree! "Adoption is a strong word, but I care about it. I am attached to this emotional aspect in my approach. It is a system of pre-ordering and pre-financing of harvests from local producers," explains Amandine Dubourg. Concretely, you advance the price of the harvest of your coffee tree to the farmer, and Masama, a year later, sends you your 2 kg of roasted coffee. "The goal is to allow farmers to receive a fair price for their work. It also allows them, those who usually do not know what their product is becoming, to forge a link with consumers. » A link materialized originally: your name is engraved on a small wooden sign hung on your coffee tree!

But nothing prevents you from coming there, of course, to meet the one whose products you will taste a few months later… We were told that Bali was a wonderful place. And it is not Amandine Dubourg who will say the opposite.
Published on Couleurs Magazine, Edition January 2020.